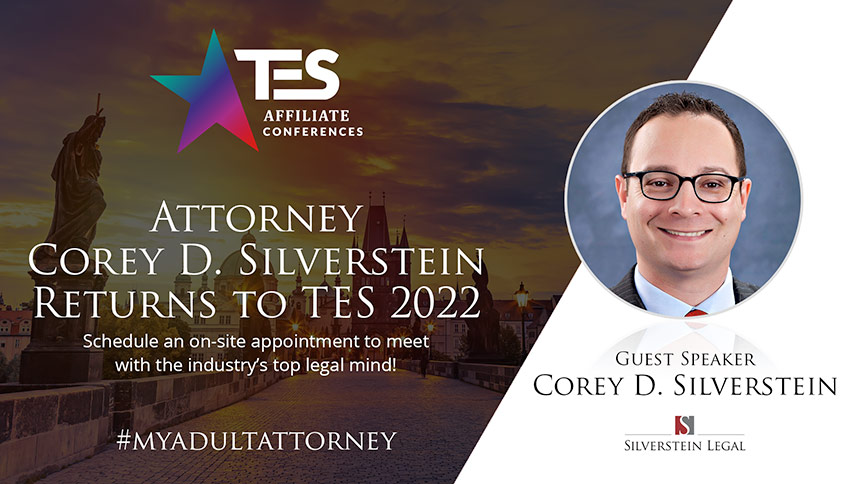 Join Corey Silverstein for seminar events and schedule an on-site appointment to meet with the industry's top legal mind!
Cyberspace (June 22, 2022) – Corey Silverstein, the driving force behind Silverstein Legal is pleased to announce his post-COVID return to The European Summit Affiliate Conferences (TES). Silverstein will lend his expertise and insights during multiple TES events. Attendees can also schedule an on-site appointment with Silverstein during the show.
TES is happening from August 22 – 25 at the Vienna House Diplomat Hotel in Prague, Czech Republic. Register here.
Silverstein is returning as a sponsor for the show and will have a dedicated meeting room – Rome, which is located on the show's first floor – available for the duration of the event. Prospective clients, existing clients, and/or anyone just wanting to say hello can stop by to meet Silverstein.
Visitors are encouraged to schedule a meeting in advance of the show by emailing corey@silversteinlegal.com directly.
"TES Prague has become the biggest and best yearly show for anyone operating in the online marketplace," Silverstein said. "COVID may have paused things for a minute, but now that the world is slowly normalizing, there was no way I would miss attending and participating in this event."
"TES' organizers Walter and Andreas know how to put together the best business meetups, so sponsoring this event was an easy decision," he added.
In addition to one-on-one meetings, Silverstein will also take part in several seminars during TES.
Currently slated, the "Legal Update" seminar will happen on August 23, 2022 from 3 – 3:50 PM (local time). During the seminar, participants will discuss the legal landscape for online businesses, which has never been more complex. For instance, in the United States, Section 230 is under attack, leaving an uncertain future for online service providers. Meanwhile, in the EU, age verification is once again making headlines as data privacy regulation continues. This seminar is a can't miss legal update for all attendees. Additional seminars will be announced soon.
"I can't wait to re-connect in person at TES with so many of my friends and colleagues from around the world!" Silverstein enthused.
Join Silverstein on Twitter at @WebsiteAttorney and on LinkedIn.
About Silverstein Legal
Founded in 2006 by internet lawyer Corey Silverstein, Silverstein Legal is a boutique law firm that caters to the needs of anyone working in the online industry. Silverstein Legal's clients include hosting companies, affiliate programs, content producers, processors, designers, developers, and website operators.